Auto Service Checklist Before a Road Trip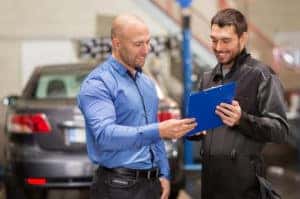 Summer is the perfect time to hit the highways and enjoy a great road trip. Drivers in Baldwin Park, Pasadena, and Pomona are taking advantage of the beautiful California weather, rolling down the windows, putting down the top, and making their last-minute road trip preparations.
To ensure your safety and that your Honda serves you well throughout your drive, you should have a routine inspection performed by a certified Honda service center. Improper maintenance could leave you stranded, ruining your exciting road trip.
To be sure that your car is ready to hit the highway, here's an auto service checklist to complete before driving off.
Battery
Your road trip can quickly come to a halt if your battery won't start. To prevent this disaster from occurring, be sure to check your battery life and ensure that it has a good charge. If your battery is corroded, use baking soda and water to clean around the plugs.
Tires
Inspect your tires before heading off on your road trip. Make sure that they have adequate tread, are free of cracks or bulges, and aren't low on air. If you don't have a tire gauge, purchase one to take with you on your trip.
Brakes
Have your local Honda service center check your rotors and brake pads. A worn brake system can be dangerous. If necessary, it's important to replace your brakes before going on a road trip.
Suspension System
Having worn shocks or struts can make a big difference in how smoothly your Honda rides. A professional mechanic can check these parts for damage and replace them before your road trip so your vehicle will perform at maximum efficiency.
Cooling System
It's common for cars to overheat during long road trips. To prevent this from happening, bring your car to your local Honda service center and have your system flushed. This process will reveal any damage or leaks in the hoses or radiator, and your old coolant will be replaced with a fresh supply.
Transmission
A lot of time and money can go into fixing a transmission issue. Driving your vehicle over a long distance with a poor transmission can cause even greater damage. Before you leave on your road trip, have your transmission inspected and repaired if necessary.
Visibility Aids
Lights, windshields, and mirrors are all important to your safety. Have a safe road trip by making sure that all of these components are in proper working condition.
Heating and AC
Road trips are no fun if you're constantly too hot or too cold. Don't let the summer heat ruin your trip. Have your heating and cooling system inspected before you leave.
Routine Maintenance
Even if your Honda is in pristine working condition, you should always have a routine service check performed before heading off on a long road trip. An oil change and engine air filter change will help to keep your car running well during and after your big trip. Submitting your vehicle for a complete routine tune-up will also get you better gas mileage.
Norm Reeves Honda Superstore in West Covina is proud to serve the drivers of Pasadena, Baldwin Park, and Pomona. Before you leave on your summer road trip, stop by our service department so we can make sure your Honda is running smoothly.