What to Expect During your First Year of Honda Maintenance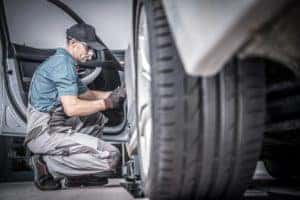 Whether you've opted for the sporty feel of the Honda Civic Coupe Si or the family-friendly Honda Odyssey, your new Honda will need regular maintenance during the first year.
Once upon a time, the maintenance schedule for every new Honda was dictated by just that—time—without regard to how you drive, road conditions, or climate. Today, thanks to Honda's innovative Maintenance Minder, your new Honda Accord's onboard computer will notify you when your car needs service.
Your First Honda Car
Every vehicle has a little breaking-in period, a time when all of its systems move from being factory new to becoming a well-oiled machine. It's a good idea to treat your new Honda car with a little TLC during the first year:
Allow the engine to warm up for 30 seconds or longer on cold mornings.
Avoid jackrabbit starts for the first 600 miles.
In a Honda with manual transmission, shift smoothly and at the right RPMs.
Avoid rapid acceleration for the first 600 miles.
Avoid hard braking; new brakes should be used moderately for the first 200 miles.
Maintenance Minder Codes
Honda's Maintenance Minder provides a main code and a subcode to help you know what service your Honda Pilot needs:
Code A: Replace engine oil.
Code B: Inspect front and rear brakes, tie rods, steering gear box and boots, suspension and driveshaft boots; check parking brake; replace engine oil and filter.
Subcode 1: Rotate tires.
Subcode 2: Replace air cleaner element; replace dust and pollen filter; inspect drive belt.
Subcode 3: Replace transmission fluid.
Subcode 4: Replace timing belt; replace spark plugs; inspect brake hoses and lines; inspect water pump; inspect valve clearance.
Subcode 5: Replace engine coolant.
Honda Oil Changes
Before the advent of computer controls, high-performance engines, and improved motor oils, car manufacturers recommended oil changes every 3,000 miles. Some service shops still push them, but they're not necessary. Wait for your Honda vehicle to tell you when it needs an oil change. For an oil change in West Covina, schedule an appointment with us online today. That could be at 3,000 miles if you drive under adverse conditions, which involves a lot of stop-and-go driving, steep hills, and dramatic changes in temperature.
You may not need to change your Honda's oil until it reaches 5,000, 7,000, or even 10,000 miles
When your predicted oil life reaches 15 percent, the Maintenance Minder indicator light in the shape of a wrench turns on, and your dashboard display reminds you to schedule a service visit.
At 5 percent oil life, a different, slightly more insistent message tells you to get service now. This is to ensure your Honda isn't damaged by dirty oil.
Still waiting? When overdue, your Honda's Maintenance Minder flashes a message, showing how many miles overdue your oil change is.
What To Expect
The first year of Honda ownership can be a long honeymoon if you pay attention to your Honda's needs and give it the attention it deserves. Work with your Honda dealer or trusted service shop to give your Honda every benefit of a good start to a long life.
Expect your dealer to take a genuine interest in seeing that your new car gets the service and maintenance it needs during its first year. This may include complimentary tire rotation, an invitation to have your new car checked after a few thousand miles, or even a complimentary oil change. Schedule an appointment online today at Norm Reeves Honda Superstore in West Covina, CA!