Honda Battery Warranty 101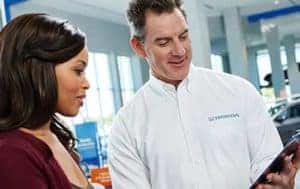 Schedule Service Contact Us
Purchasing a new Honda from Norm Reeves Honda Superstore in West Covina means you get the trusted protection of a Honda warranty. This plan includes a Honda battery warranty, which provides drivers with a layer of financial and automotive support out on those Baldwin Park, Glendora, and La Puente streets.
While it's understandable to not know the fine details that come with a warranty, a deeper comprehension is a necessity. Here's what you need to know about the Honda battery warranty…
Honda Battery Warranty Coverage
When the unexpected happens, you want to feel like you have options outside of jumping right into the repairs. Luckily, with the Honda battery warranty, you won't have to worry.
Within the first 3 years of owning your new Honda (or 36,000 miles, depending on how much you drive), your battery can be replaced at no cost to you. So, if you encounter any unfortunate glitches or unknowingly burn out the battery, Honda will have you covered.
Get Yourself a Genuine Honda Replacement Battery
When you visit our West Covina Honda dealership for your new battery, we'll be sure to load up your vehicle with a genuine Honda replacement. These batteries have been built to the manufacturer's CCA and reserve capacity engineering specifications. Plus, they were specifically built for your car, so you'll know that with the right care, they can really last.
Honoring Your Honda Battery Warranty
If you're in need of a new battery and fall within those 36-month/36,000-mile markers, you can head to any Honda dealership across the nation for your battery replacement. Of course, if you're right in the neighborhood, we're more than happy to take care of things for you.
Our service center is well known for its timely repairs and replacements, as well as its friendly staff. We take care to hire only the most well-informed and personable technicians. That way, Honda service will always be an enjoyable experience for you.
How Do You Know When It's Time for a Battery Inspection?
Drivers must be able to recognize common battery problems to know when to schedule a service appointment. Ignoring the issues will result in long-term automotive damages and breakdowns.
Common warning signs include:
Slow engine crank
Illuminated battery warning light
Battery fluid leak
Once you see these signs arise, head straight to your local Honda dealership for a proper inspection.
Contact Our Service Center for More Information
At Norm Reeves Honda Superstore in West Covina, we strive to emulate that essential Honda dedication by helping drivers all over the world. This is why we always honor the Honda battery warranty for drivers in the Baldwin Park, Glendora, and La Puente areas and beyond.
Would you like more information about the Honda battery warranty or just about how you might order your replacement battery today? Then you'll want to talk to a member of our service team. This process is easy, and we'll make sure that you know exactly how it's done.
Contact us today for more information!