Vehicle Comparison: The Honda Civic Hybrid versus the Toyota Prius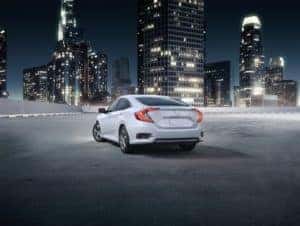 With the rising price of gasoline, more drivers are considering a hybrid vehicle. Many auto manufacturers are offering hybrid versions of their popular models, and the selection seems to increase each year.
Honda and Toyota both have hybrids in their lineup. Toyota has the Prius, which was specifically designed as a hybrid, while Honda offers a hybrid version of the popular Civic.
Civic Hybrid vs. Prius Side-by-Side
The Honda has a 1.5L 8-valve SOHC engine that produces 90 horsepower and 99 pound-feet of torque. The Prius has a larger 1.8L 16-valve DOHC engine which delivers a slightly higher horsepower rating of 98 with 105 pound-feet of torque.
The horsepower for the Civic while running on electric power is 110, and the Prius can deliver 134 horsepower while running on electric power. Both cars come with a standard automatic transmission and are classified as ultra-low emissions vehicles.
Both vehicles are front wheel drive, and the Civic has a 13.2-gallon gas tank while the Prius only has an 11.9-gallon tank. The Civic's curb weight is 2,868 pounds, and the Prius weighs in at 3,274 pounds.
Get Into It
Comparing the Civic Hybrid and the Prius will find similar interior convenience and comfort features. Automatic climate control, power windows, and locks, and a telescopic/adjustable steering wheel are standard on both cars.
Honda offers a power tailgate locking mechanism and a remote trunk/tailgate release while these options are not available on the Prius. Both the Civic Hybrid and Prius have two auxiliary power outlets, delayed power retention, and exterior temperature gauges.
The Prius has audio, cruise control, and air conditioning controls mounted on the steering wheel, while Civic drivers can only operate the audio system and cruise control with such wheel-mounted controls.
The audio systems in a Civic Hybrid vs. Prius comparison will show that drivers of either car will enjoy AM/FM radio, XM satellite radio, and speed-sensitive volume adjustment. Music on CD or an MP3 player can be heard through the six-speaker sound system.
Honda provides an anti-theft device for the radio system, while Toyota does not offer this cost-saving feature in the Prius.
Rolling Along
Both cars have standard alloy wheels with all-season tires. Honda has 15-inch tires, and the Prius has 16-inch wheels. The Civic Hybrid has both front and rear stabilizer bars while the Prius only has them in the front.
Turning diameters are 36.1 feet for the Prius and a tight 35.4 feet for the Honda. Honda has equipped the Civic Hybrid with variable assisted steering; the Prius does not offer this safety feature.
Green and Safe
A Civic Hybrid vs.Prius safety comparison reveals that both vehicles have airbags throughout the passenger compartment along with stability control, traction control, and electronic brake assist. Tire pressure monitoring and electronic parking assist help drivers operate the vehicles in a safe manner.
The Civic Hybrid and the Prius have identical basic warranties which cover 36 months or 36,000 miles. The powertrains are covered for 60 months or 60,000 miles.
Check out the Honda Civic Hybrid at Norm Reeves Honda Superstore in West Covina. You will find this car is not only environmentally friendly but is stylish and loaded with features. So visit Norm Reeves at 1840 East Garvey Ave S in South West Covina, California to see all that the Civic has to offer.