2019 Honda CR-V vs 2019 Kia Sorento

When you're pondering your next vehicle, and you're considering a crossover for your adventures around City of Industry, El Monte, and La Puente, you've got a few options. But if you've got a sense of the selection and you're torn between the 2019 Honda CR-V vs. Kia Sorento, you've got a tough choice ahead of you.
However, at Norm Reeves Honda Superstore West Covina, we're here to help drivers stuck in this crossover conundrum by showing you what the new CR-V and Sorento offer and how they differ.
2019 CR-V vs Sorento Engine Power & Performance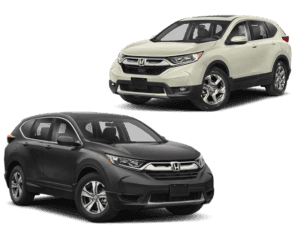 The Honda CR-V and Kia Sorento each come equipped with respective 2.4L 4-cylinder engines. While they seem similar right out of the gate, there are a few differences. While each vehicle's engine can generate more than 184 horsepower, the Honda CR-V leads in torque output with 180 lb-ft. The Sorento falls slightly behind with 178 lb-ft of torque.
Another major difference with their respective performances is the paired transmissions. The CR-V includes the Continuously Variable Transmission which is known for its smooth accelerations, seamless gear transitions, and its boost in efficiency. The Sorento merely comes with an average 6-speed automatic transmission.
Cabin Space & Cargo Capacity
The CR-V and Sorento each offer spacious cabins. The CR-V includes two rows of seating while the Sorento manages to squeeze in three. Front row passengers in the Honda CR-V get 40.1 inches of headroom, while Sorento passengers get 39.5 inches of headroom in the front row. In terms of second-row legroom, the CR-V offers 40.4 inches while the Sorento includes just 39.4 inches.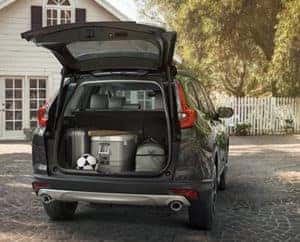 When all the seats are in place, the CR-V includes 39.2 cubic feet of cargo space while the Sorento includes only 11.3 cubic feet. Folding down the third row in the Sorento evens the scale a bit, but to just 38 cubic feet. When you're looking to maximize the cargo space, folding down the rear seats in the CR-V expands the area to 75.8 cubic feet while the Sorento cargo area only goes up to 73 cubic feet when its last two rows are folded flat.
Interior Technology & Entertainment
The Honda CR-V and Kia Sorento each include dashboard-mounted displays that are used for media selection. Each vehicle includes USB and auxiliary inputs, Bluetooth® connectivity for hands-free phone usage and audio streaming, and AM/FM radios. The CR-V also adds Pandora® compatibility, which gives you access to thousands of customizable internet radio stations. Additionally, the Honda CR-V includes Speed-Sensitive Volume Compensation which improves the audio delivery during loud engine performance by automatically adjusting the volume.
Deciding on the 2019 Honda CR-V vs Kia Sorento
At Norm Reeves Honda Superstore West Covina, we hope that this CR-V vs. Sorento comparison gave you a better sense of these two vehicles and what they offer. More importantly, we hope that you've taken notice of the glaring differences between these two crossovers. While you've gotten a sense of the many notable advantages that the CR-V has, it's best to experience them in-person!
Schedule a test drive with us today so you can find the right vehicle to get you across the streets of City of Industry, El Monte, and La Puente.