Honda Dealer near El Monte, CA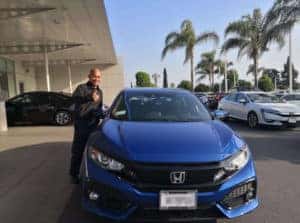 El Monte is a friendly town in Los Angeles County, CA. In fact, the city's slogan is "Welcome to Friendly El Monte."
It was first settled in 1849 during the California Gold Rush. El Monte Legion Stadium was a popular venue in the 1950s for early rock-and-roll performers, and it would draw teens from all over the southern California area.
Today, the city has a population of just over 113,000 people and is located about 13 miles from Los Angeles. If you enjoy visiting Senor Alberto, relaxing at Mountain View Park, or need to get to the San Gabriel Valley Airport, you'll need a vehicle that's reliable, comfortable, and economical to own and drive. Honda offers vehicles that meet all of these requirements and more.
For anyone searching for a Honda dealer near El Monte, CA, Norm Reeves Honda Superstore in West Covina is the place to go. There are many reasons to stop by our dealership in West Covina, and we'll happily tell you why you should.
Our Honda Dealership
We pride ourselves on providing years of automotive experience and customer service. Our team of Honda professionals has an average of nine years of service just with our dealership alone. We also continuously rank high in Honda Customer Satisfaction Surveys, and we strive to continue that pattern with the way we do business. And on top of all that, our staff plays an active role in supporting the local communities.
If you're interested in purchasing a new or pre-owned Honda, you'll find a great deal of information on our website. You can calculate your monthly payment for a given vehicle, compare leasing and purchasing options, and even get pre-approved for financing. There's also a vehicle configurator tool that can help you to compare all of the options and equipment when building your dream Honda.
For example, you can use the configurator to view the latest options for the Honda Civic, a decades-long staple of the Honda family. You can also discover the combination of comfort and versatility that the Honda Odyssey and Honda CR-V have. Meanwhile, the Honda Fit is a five-door hatchback that provides moderate cargo space while remaining relatively compact.
Online Inventory and Research Tools
As a Honda dealer near El Monte, we try to go above and beyond the normal expectations of dealerships. At Norm Reeves Honda Superstore in West Covina, we make the car buying experience easy by putting our entire inventory of Honda models online. From the comfort of your own home, you can casually browse all of the vehicles on our lot. You can even use our search filters to expedite your experience.
These filters allow you to search by year, model, color, and trim. That way all of your requirements will be organized in a list that you can go through in an effort to get closer to your dream car. You can save yourself countless hours of searching the internet and find your next vehicle with ease.
At Norm Reeves Honda Superstore in West Covina, we know that research is one of the most important steps to take when deciding on your next car. We try to be more than just a dealership in this respect because we're happy to provide you with the necessary tools to make your car buying journey an easy one. That's why we have an extensive library of research materials that are free for you to use to help you choose your next automobile.
Our reviews give you an in-depth look at the Honda vehicles we currently have in stock. These informative articles show you the key components and features of these Honda models. You can learn about the engine abilities, space and comfort, entertainment technology, and safety features—one of the most important factors to consider when buying your next car.
If you're torn between a few different cars, we highly recommend that you read our vehicle comparisons. These comprehensive articles take the Honda models on our lot and place them right next to the competition. We look at the various features of each vehicle and show you the similarities but, more importantly, highlight the differences so you can see which vehicle is the better pick for you.
These articles draw fair comparisons in several categories, including vehicle performance, featured amenities, and safety. By reading these articles, you'll have the necessary tools to make an informed decision regarding your next vehicle.
A New Honda Near El Monte
If you're ready to begin exploring your automotive options, then visit your local El Monte Honda dealer. You can schedule a test drive with any Honda model by contacting us at Norm Reeves Honda Superstore in West Covina. Our team of professionals offers friendly service and expert advice. They'll happily guide you around our lot and showroom to give you a better idea of our impressive stock of Honda vehicles. They'll even explain the different trim levels and packages that can make your next vehicle tailored to your specific needs.
Our dealership is located at 1840 East Garvey Ave. South in West Covina, CA. The dealership is a little over 10 miles from South El Monte.
Using El Monte City Hall as a landmark, drive south on Santa Anita Avenue to North Central Avenue. Merge onto CA 60 East, travel 1.5 miles, and merge onto I-605 North.
Merge onto I-10 East toward San Bernardino. Take exit 36 and turn right onto South Azusa Avenue. Take the first left onto East Garvey Avenue and you'll see our showroom on the right-hand side.
Norm Reeves Honda Superstore in West Covina is open from 8:30 am to 10 pm Monday through Saturday and 10 am to 8 pm Sunday. If you have questions or need assistance, call us at (888) 694-5544. We look forward to working with you!
Norm Reeves Honda Superstore in West Covina is proud to serve drivers like you in El Monte.