Honda Dealer Near Glendora, CA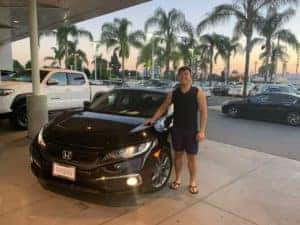 You only need to drive through town and admire the beautiful homes to understand how storied this city is. From classic Victorians to bungalows to old-fashioned ranch-style homes, around every corner is an echo of Glendora's history.
What began as a ranching community with deep agricultural roots eventually grew into a hub of commerce and military history. Today, downtown Glendora, also known as Glendora Village, has some of the best boutiques and restaurants in the area.
For an upscale dining experience, try LucaBella Fine Foods for a mix of American and traditional Italian cuisines. Or, head to Kara's Korner Deli & Family Restaurant for a more laid-back lunch with friends. Either way, you won't be going home hungry.
Our Car Dealer near Glendora CA
Since opening in 1999, the primary focus of our team at Norm Reeves Honda Superstore in West Covina has been to deliver exceptional customer service to every member of our community. As a matter of fact, we've cultivated a diverse staff that speaks nine different languages, just for that purpose.
Inventory
If you're looking to purchase a new or used vehicle, our Honda dealer near Glendora, CA, is the perfect place to do so. We have one of the biggest selections around, featuring a wide variety of cars. Whether you're looking for a smaller, more efficient Civic, the all-terrain CR-V, or the spacious and powerful Pilot, we have several in stock to choose from.
But you don't have to head to our Honda dealer from Glendora just to catch a glimpse of these options. In fact, you can simply head to our online inventory. Using the search filters, you can narrow down the results you see based on components that you're looking for with your next car. You'll be able to find your next set of wheels in just a few clicks!
Honda Research
Deciding on your next car isn't the easiest decision to make. There are a lot of factors to consider. But as a Honda dealer serving Glendora drivers, we try to help you learn as much as possible so you can make the decision that's best suited for you and your driving needs.
Our research library has plenty of resources that you can use to decide on your next car. Our Honda reviews will highlight the performance, style, space, features, and more of a Honda vehicle that you're considering so you'll have enough details to form a decision.
If you're torn between a few different models, our Honda comparisons may come in handy. These guides will take the Honda you're considering and place it right next to similar vehicles you may be also looking at. These guides will showcase what each vehicle offers while highlighting the notable differences so you can decide on the vehicle that's right for you.
Protection
Buying a car is a big investment, and we want your purchase to be protected. That's why we've started the 5-5-5 Protection Program. If you can find the same Honda model at another dealer for less within five days or 500 miles, we'll buy back your car, no problem.
Service
When the time comes to service your car, you can also bring it to us. Our service team is comprised of highly experienced and knowledgeable technicians who know Honda cars like the back of their hand. Whether you need a tire rotation or something more pressing, they have the skills to complete the job.
On top of taking care of all of your vehicle's service and maintenance needs, our Honda technicians will conduct thorough inspections to your vehicle to make sure that every component, part, and system is in proper working order. They'll be able to detect issues early on before they become a major problem down the road.
Another benefit to routine and regularly scheduled Honda service is that it helps you stay on top of the various maintenance requirements in a timely manner. Not only will this result in your vehicle performing at its best and most efficient, but it can keep your vehicle in great shape and condition over the years. Through regular service, you can keep your vehicle running smoothly for years to come!
Finance Your Honda Today
After you've had the chance to take the test drive and get a feel for your Honda, you'll work with our finance team to land the payment plan that's right for you. You'll factor in your down payment, or you can trade in cars to help count as your payment towards your auto loan. Once you sign the deal, you'll be ready to tackle the streets of Glendora in your new Honda model!
Ready To Find Your New Honda?
When you need to find a Honda dealer near Glendora, CA, that you can trust, you need to look no further than Norm Reeves Honda Superstore West Covina. No matter your needs, our team is here to help you find the right Honda specials, the right car, and the right plan!
If you're looking for financial assistance, don't hesitate to visit our finance department. Apply online before stopping in, and our financers can help you get approved in no time. For more information, contact our team today.
We're here to assist you every step of the way from when you arrive to our Honda dealer until you're driving off our lot in your new car!