Honda HR-V Dashboard Light Guide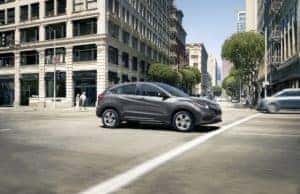 If you're looking down at your dashboard and see a strange little light that you're not sure what it means, then this Honda HR-V dashboard light guide is for you.
In this guide, we'll help drivers from around the Los Angeles, Baldwin Park, Glendora, and Azusa area familiarize themselves with the many indicators and warning lights located on the dashboard. You'll also find out if you need to schedule service or if you just need to put air in your tires.
Questions? Contact us at the Norm Reeves Honda Superstore in West Covina.
Defining the Three Dashboard Light Categories
There are three different kinds of dashboard lights inside your Honda HR-V. The first category is malfunction indicators. Typically red or yellow, these lights indicate a critical problem that may need immediate attention.
The second type of dashboard lights is a condition indicator. While these are also usually red or yellow, typically service isn't needed. Instead, there may be some kind of action needed from the driver, such as the red door/tailgate open light that means that one of the doors or the tailgate isn't fully closed. This light requires the driver to close all doors and tailgate securely.
The final category is on/off indicators. Like the name implies, these lights simply tell the driver when certain systems are engaged or disengaged. They're usually green in color, but some can be yellow, red, or blue. There's nothing you have to do and no service is required.
Honda HR-V Dashboard Lights
Brake system/parking brake (red):
This light is depicted by the word BRAKE and means one of three things: Either the brake fluid is low, there's a problem with the brake system, or the parking brake is engaged. If the parking brake isn't engaged, then have your Honda serviced immediately.
ECON mode (green):
Honda HRV DashboardIf your Honda HR-V is equipped with ECON mode, then this little green plant-shaped light is telling you that the feature is currently engaged.
Maintenance Minder (yellow):
Shaped like a wrench, this light means that it's time for routine maintenance. Schedule an appointment at an authorized Honda service center.
Supplemental Restraint System (red):
Seen as a seated passenger wearing a seat belt with a large circle in their lap, this light indicates a problem with either the airbag system or the seat belt tensioners. Have the vehicle inspected by a certified technician.
Vehicle Stability Assist (yellow):
Depicted as a car with two wavy lines below the tires, this light has a few meanings. If blinking, then Vehicle Stability Assist is engaged and should turn off once stability has been restored. If steady with the word OFF underneath it, then the driver has turned the system off. If the light is steady, but you don't see the word OFF under it, then this could indicate a problem with the system or Hill Start Assist. In this case, it's a good idea to schedule service.
Didn't See the Dashboard Light You Were Looking For?
If you didn't find the particular light you were looking for in our Honda HR-V dashboard light guide, don't worry – we can still help. Drivers in the Los Angeles, Baldwin Park, Glendora, and Azusa area can contact our service department at the Norm Reeves Honda Superstore in West Covina. We'll help you define the light on your dash and schedule a service appointment if needed.