Honda Ridgeline vs Chevy Silverado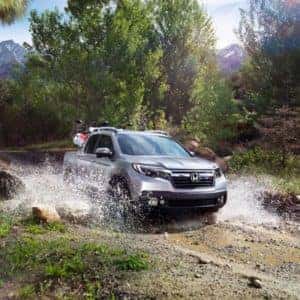 Full-size pickups are good for more than work. Add a second row, and they'll carry your family and friends on adventures, tow your toys, and, with some polish, dress up nice enough for a night on the town. Honda is still new to the American truck building game, but their Ridgeline is giving the old stalwarts like the Chevrolet Silverado a run for their money. Don't dismiss the Honda because it's from Japan — it's actually built in Alabama, then delivered straight to Norm Reeves Honda Superstore in West Covina, CA. So, when you compare the Ridgeline vs. the Silverado, which truck wins?
View Inventory Contact UsRidgeline Review
Interior
The Silverado's utilitarian nature shines through in its interior. Drivers are greeted with cloth split-bench seats, while the Ridgeline envelops the driver and front passenger with heated, leather-trimmed, and height-adjustable bucket seats. Both trucks have a leather-wrapped steering wheel with audio controls and folding rear bench seats. A 4.2-inch center-mounted driver information display is standard on the Silverado. The Ridgeline lacks in this area unless you upgrade to the satellite navigation system. The Silverado's display only shows basic information and controls for the radio; navigation is an upgrade. Each truck features a six-speaker SiriusXM radio, CD player (the Ridgeline has a six-disc changer), AM/FM radio, and jacks for connecting your portable music device. Dual-zone, automatic heating and A/C (an option on the Silverado) add to the Ridgeline's comfortable interior. While they both have power windows and locks, the Ridgeline comes standard with a powered rear window — perfect for a drive down to the beach from West Covina on a nice day.
Exterior
The bed is the first thing you notice about a truck, and the Chevy wins in this category. It's 69.3 inches long compared to 60 inches on the Honda. This also gives it an edge in maximum payload capacity. The Silverado can haul 1,933 pounds of gear, while the Ridgeline is rated at 1,487 pounds. The Ridgeline has a few interesting features not available on the Silverado. There's a lockable storage compartment in the bed, and the tailgate can either open normally or to the side like a car door. Both trucks have a trailer hitch; the Silverado is rated to tow 900 more pounds than the Ridgeline's 5,000-pound capacity. Finally, the Chevy sits on 17-inch alloy wheels, while the Honda's alloys are 18 inches.
Powertrain and fuel efficiency
A V6 engine powers both trucks, but the Silverado's has more torque, and horsepower. Keep in mind that the Ridgeline comes standard with all-wheel drive, and the Silverado doesn't. In conclusion, the trucks are similar, but the Honda wins the Ridgeline vs. Silverado comparison because of its lower cost and comfort features.