Honda Sensing® Safety Technology



Even though most vehicles are equipped with the necessary safety features to ensure safe travel around the streets of La Puente, El Monte, and City of Industry, Honda adds an extra system to ensure that accidents and mishaps are preventable. Honda Sensing® is a suite of driver-assisting features that can take your safety further.
At Norm Reeves Honda Superstore West Covina, we're here to help drivers learn more about these features with how they work, what they do, and how you can benefit from having them with your Honda model.
How Does Honda Sensing® Work?
All of the Honda Sensing® features use exterior-mounted sensors to know when to activate specific features based on factors like speed, proximity, and even lane position. If your vehicle comes close to another vehicle, or if your vehicle is beginning to veer out of its lane, these Honda safety systems will activate by providing a warning and using brake pressure to mitigate the situation. This helps to reduce the severity of the issue and to give you a window of time to react.
Honda Safety Technology Features
These Honda Sensing® features offer a variety of capabilities to assist you on the road. They can add more safety, convenience, and confidence to your driving by helping you potentially avoid a collision or a lane departure. These features include: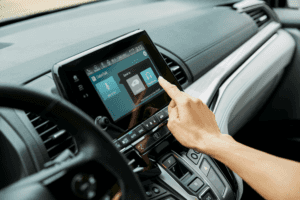 Forward Collision Warning– detects a possible collision based on your proximity to a vehicle and your rate of approach while flashing a warning to notify you of the issue.
Collision Mitigation Braking System™- this system works with the Forward Collision Warning. Once the warning flashes, this system will apply brake pressure to reduce the severity of impact while giving you a chance to react and stop the vehicle completely.
Lane Keeping Assist System– this Honda safety technology system will measure your position in the road to ensure that you stay in your lane. It will use slight steering to ensure optimal lane position.
Road Departure Mitigation System– similar to the previous feature, this system will adjust your steering and provide braking pressure if you cross lanes without signaling.
Adaptive Cruise Control– this feature will maintain a specific distance from the vehicle ahead and will actively adjust its speed to compensate for the flow of traffic and ensure that the distance is kept.
Traffic Sign Recognition– this system uses a small camera to detect upcoming road signs to let you know their meaning if they're at a distance or obscured.
Learn More About Honda Sensing® Today
If you're interested in learning more about these Honda safety features and technology with how they work and what they offer your driving experience, you can always head into Norm Reeves Honda Superstore West Covina to see us. Most Honda models include these features at the base level, so when you find the model you want, we can walk you through how the features work and what you can expect from behind the wheel.
Schedule your test drive at our Honda dealership to see what these safety features and technology systems offer while you're out on the roads of La Puente, El Monte, and City of Industry!