We Want Your Trade near West Covina CA

Have you had the itch to get a new car? You may want to scratch that itch and unload your current car for your new one. Drivers near the West Covina, CA, may be interested to hear that at Norm Reeves Honda Superstore West Covina; we want your trade!
The trade in process is pretty simple, but it's a viable option for when you're in the market for a new car. We're here to detail the various steps of the trading process and how it can help you get your new car!
How the Trade In Process Works
When the time comes and you're contemplating your next car, you need to think about what to do with your current one. You could, of course, hold on to it for your young one when they're ready to drive. You could also sell it, but there's a lot of responsibility that goes into that.
Trading in your vehicle is simple. First, you'll want to know what your vehicle is worth. Using our Value Your Trade tool, you'll input your make, model, year, mileage, condition, and VIN. It will then calculate those factors and present you with your Blue Book Value. You'll then have the details you'll need to get started.
The Benefits of Trading in Your Car
Once you decide that you want to trade your vehicle in, and you've gotten the value from our Value Your Trade tool, the process is really easy. You'll have an estimate of the value, but it will be confirmed by one of our experts, who will carefully inspect the vehicle. Once you have the real value, you'll be ready to begin.
Your trade can basically act as your down payment for when you begin financing your new car. It saves you from paying out of pocket for your down payment. However, if the value of your trade is higher than the expected down payment, you have a few options.
You could:
Pocket the Remainder
Put More Down to Lower Your Future Monthly Payments
Select an Available Package
Purchase an Extended Warranty
Get Started on Finding Your Next Car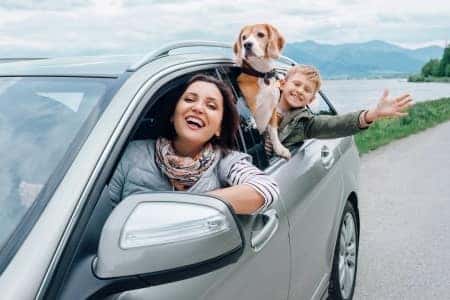 Now that you're familiar with how the trade-in process works, you're ready to kick off the experience. You can start by checking out the selection for your next car. Whether you're looking for a compact sedan like the Honda Civic, an adventurous crossover like the CR-V, or a spacious SUV like the Honda Pilot.
Once you've browsed and determined your options, you'll want to take a test drive to be sure that it performs to your liking. From there, simply tell the finance expert you're working with that you plan on trading in the car. They'll take it from there and get your vehicle appraised so you can complete the process!
Start Your Trade-In Experience!
At Norm Reeves Honda Superstore West Covina, we want your trade! Use our Value Your Trade tool to begin to see what your vehicle is worth and how you can use it toward the purchase of your new car!
Contact us or schedule a test drive to see how your new car will perform on the roads of West Covina, California, and beyond!
---