Learn All About the Honda Clarity

Today's drivers in Glendora, Baldwin Park, and La Puente know the benefits of driving a hybrid. However, considering the select models out there, finding one that offers many features while looking great shouldn't be too hard, especially considering that the Honda Clarity is available. If you're considering this eco-friendly vehicle as your next set of wheels, you probably have a few questions about what this vehicle offers. At Norm Reeves Honda Superstore, we're here to help you learn more along the way by offering you some helpful resources and guides.
View Inventory 2019 Clarity Review Contact Us
Honda Clarity Plug-In Tax Credit
The Benefits of a Hybrid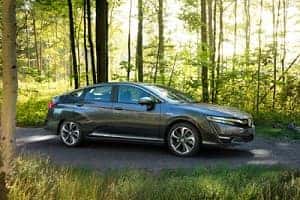 There are plenty of benefits to driving a hybrid. The Honda Clarity offers a great fuel efficiency to help you get the most out of every gallon. There's also zero emissions, as per the specific codes set by the state of California. Another huge benefit to owning a hybrid is that it's a wise investment. Hybrid vehicles don't endure the normal wear and tear that most standard gas models do, so they're not getting serviced as much, and they're out on the road longer!
There are also plenty of benefits in California to driving a Honda Clarity. There are federal tax credits awarded to drivers who buy plug-in vehicles, as opposed to standard gas cars. The Clarity is also considered a High Occupancy Vehicle, which allows you to use the HOV lane, even if you're by yourself!
Helpful Honda Clarity Guides & Resources
When you're considering the Honda Clarity, it helps to get some more details about the vehicle and what it offers. We have reviews of the Clarity to highlight the different components, styles, and features of the varying Clarity trim levels. We also have Clarity comparisons that place the Honda Clarity right next to a similar hybrid to show how the vehicles differ, along with any similarities; above all, we can help you determine which vehicle is the right choice for you. These guides can help you get a sense of what you should be looking for when you're getting started on the journey towards purchasing a hybrid.
Frequently Asked Questions About the Honda Clarity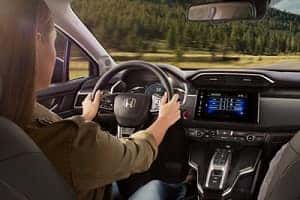 A lot of drivers have questions about the Honda Clarity. Considering that we field many questions about this popular hybrid, we've dedicated some space to list the most frequently asked questions. These questions cover a variety of aspects of the Clarity, including its driving range, how long its battery lasts, how often to charge, and what features it comes with. If you don't see your question listed, you can easily submit it and we'll add it to the list of Honda Clarity FAQs!
Learn more here: Why the Honda Clarity Plug-In Hybrid is Perfect for California Driving.
Helping the Local Community & the Environment
One of the most important reasons to owning a Honda Clarity is its positive effect on the environment. Considering these models are hybrids and plug-ins, you won't be emitting chemicals into the atmosphere. This works towards keeping the air in Glendora, Baldwin Park, and La Puente clean, and helping our local eco systems thrive!
Are you interested in learning more about the Honda Clarity? Check out the helpful resources on this page, or contact us at Norm Reeves Honda Superstore West Covina!