Honda Dealer near Azusa, CA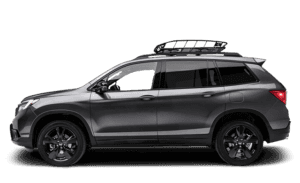 As a reputable Honda dealer near Azusa, CA, we have a soft spot for the city's small-town charm. It's the kind of city where residents always see a familiar face, and there's never a shortage of scenic views thanks to the neighboring San Gabriel Mountain chain.
Simple pleasures and a tight-knit community help to make Azusa an ideal home for families looking to avoid the chaotic nature of city life. Instead, you'll find cozy restaurants and businesses lining both sides of Azusa Avenue.
If you're looking for a place to spend a fun-filled afternoon, look no further than one of the city's many parks, the biggest of which are Northside Park and Memorial Park. These local hotspots are perfect for festive outdoor birthday parties, a weekend playdate for the kids, or a leisurely stroll around the paved walking trail.
With so many wonderful things to do and see in Azusa, CA, residents will need a vehicle they can rely on to get there safely. That's where our team at the Norm Reeves Honda Superstore West Covina can help.

About Our Honda Dealership
At the Norm Reeves Honda Superstore in West Covina, we're proud to provide drivers like you from Azusa, CA, with honest and reliable automotive services. Your complete satisfaction is our number one priority, whether you're looking for a new Honda to drive home or have a question about recommended maintenance.
When you visit our modern showroom, one of our friendly sales representatives will welcome you. ¿Habla español? We do too! In fact, we have an entire team of Spanish-speaking employees ready to help you find the Honda or service you need.
If you're looking for a new car, we have a diverse inventory of new and pre-owned Honda models to choose from. We'll sit down with you and go over exactly what you're looking for and then create a list of vehicles that match your specifications. This way, you only test the models that meet your needs. Schedule your test drive today!
We even have a team of financial experts here to help you learn about and acquire affordable financing options for your new car. With years of experience working with all types of credit situations, you can rest assured that we'll do everything we can to get you the credit you deserve.
Browse Our Honda Selection near Azusa CA
When you're in the midst of exploring your Honda options for your adventures throughout Azusa, you'll want to drop by our dealership to explore your options. Whether you're after a sleek sedan like the Honda Civic, an adventurous crossover like the Honda CR-V, a spacious SUV like the Honda Pilot, or a stylish hybrid like the Honda Insight, we've got all those models and more ready to be driven by you!
But you don't have to exactly drop by our dealership just to get an idea of the models that we have in stock. Actually, you can browse our Honda inventory from your computer! You'll be able to explore your options and find your next car easily!
Conduct Research at Our Honda Dealer near Azusa CA
As a Honda dealer, we understand that choosing your next car isn't the easiest decision to make. However, getting more details can certainly push you in the right direction. That's why we have an entire library of Honda resources that you can use to get a stronger sense of your options, which can help you make the right decision.
Our Honda reviews will showcase your top models. You'll learn all about the engine specs, interior space, media and technology, safety, and more. Our Honda comparisons will show you how your favorite Honda model measures up to the other vehicles that you're considering. They'll place these models side by side and draw comparisons on the varying performances, features, style, technology, safety, and more.
By using the helpful resources at our Honda dealer, you'll become an expert and you'll be ready to take your research to the next level with the test drive. It's your chance to review the Honda model for yourself so you can decide once and for all if it's the vehicle for you and your journeys on the road ahead!
Honda Specials & Financing
After you've browsed the selection and taken the test drive, you'll want to hear about Honda specials and financing so you can learn the ways that you can get back out on the road in your new Honda model. You can talk with the team at our Honda dealer to learn about Honda specials that can help you get behind the wheel of the vehicle that's perfect for you.
We're here to help you along the way with learning more about your available financing. We'll help you factor in your down payment, or if you want to trade in cars to put toward your new one, you'll have all the resources you'll need.
Honda Service & Maintenance
When you're happily behind the wheel of your own Honda, you'll want to do everything in your power to keep the vehicle in great shape and performing for you. Keeping up with Honda service is crucial to help your vehicle maintain its strong and efficient performance.
Whether you're in need of an oil change, a tire rotation, an alignment adjustment, or some emergency repairs, our team of Honda certified technicians are here to help you. They're well versed with Honda engineering and the mechanics of your vehicle, so they'll make sure that it's ready to face the open road.
Ready to Find a Great New Honda?
If you'd like to know more about our services and our excellent inventory of Honda vehicles, then it's time to contact us at the Norm Reeves Honda Superstore in West Covina. As a trusted Honda dealer near Azusa, CA, we've already helped many drivers get behind the wheel of a brand new Honda. Now it's your turn.
Our Honda showroom is located just minutes from Azusa, CA, down South Azusa Avenue. Once you pass the San Bernardino Freeway, turn left onto East Garvey Ave South. Our dealership will be on the right-hand side at 1840 East Garvey Ave. South.
¿Tienes preguntas? Give us a call at (888) 694-5544. We hope to hear from you soon!